Features
Living Actor™ Presenter offers powerful and innovative features to allow you to produce your virtual presenters. After your account is created you can access your full avatar gallery, your animation studio, and your video library!
Avatar Gallery
Get unlimited access to a wide variety of high quality 3D animated avatars. Every month, discover new characters and updates. Stay tuned!
3D full body avatars
More than 34 expressive behaviors
Great diversity (design, culture, age)
Several monthly updates
Animation Studio
Become your own movie Director and produce your video presentations. Five easy steps and many options will give you the ideal tool kit to become fully autonomous!
Choice of the avatar's shot
Many backgrounds to choose from
Multilingual text-to-speech
Automatic lip and behavioral synchronization (Living Actor™ Technology)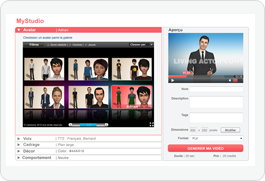 Video Library
Retrieve all your videos online in MyVideos. You will be able to replay them, tag them, or organize them. You will also be able to download or share them on social networking sites.
Full access to your production history
Video Description and Organization
Download as a standard video format for your use
Share online on social networking sites!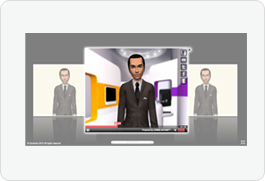 Would you like a customized version of Living Actor™ Presenter? Living Actor™ SaaS
Living Actor™ Presenter has been designed to be as simple as can be and to address our customers' most important needs. Many additional features can be easily embedded in the application and we would be happy to offer you a tailored tool that meets your expectations exactly.
Here are some premium customization examples:
Specific and customized avatars
Multi-user account management
Specific templates and export profiles
Customized application interface
Data back-up and specific access to data
Batch modes to generate large numbers of video files
Caption integration in the video files
Collaborative environment to share and review video production
Contact us!
We'll study your needs and provide you with a specific quotation.