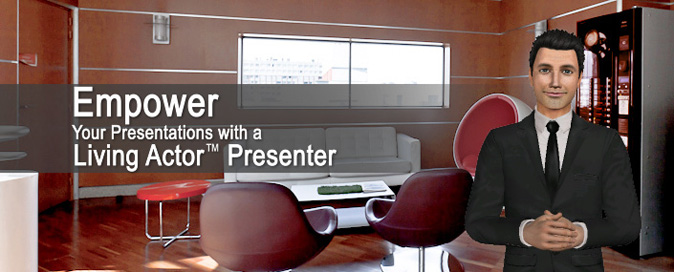 What is Living Actor™ Presenter?
It's a 100% online tool that generates video animations from an audio or text file that is used to automatically animate a high quality 3D avatar over any background that you select. You can then download the resulting talking avatar file, embed it in any presentation or training content, and even share it over the Internet.
Try it for FREE…
The Benefits of
Avatars
You decide what your avatar looks like depending on your content and audience, and you choose his/her behavior accordingly. Avatars are available 24/7… you can update or create content at any time… Living Actor™ Presenter avatars offer many updates and new features, so come and see them on a regular basis!
Discover our talking avatars.
Technological
Innovation!
Living Actor™ is a highly innovative 3D animation technology that combines artificial intelligence and behavioral analysis resulting in amazingly realistic avatar behaviors. Every single Living Actor™ avatar has his/her own way of behaving, according to age, culture and style…
Discover our features.
05-13-2013
|
Welcome Jin our newest Avatar!
Jin just joined the gallery. He is the first asian male Avatar to join the Gallery.
http://bit.ly/cLxzV4
04-24-2013
|
Andrew as a fireman!
Welcome to our first volunteer fireman avatar. He will be happy to share his expertise.
http://bit.ly/cLxzV4
04-10-2013
|
Welcome Tina!